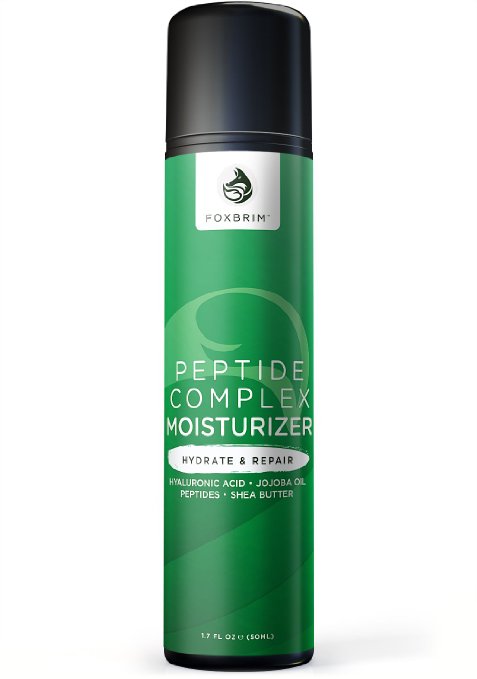 What it is:  According to Foxbrim, "Hydrate & Repair - Enjoy wonderfully delicate moisture with Hyaluronic Acid + Jojoba Oil and refreshing botanical actives. Powerful Peptides stimulate collagen production increasing skin thickness and effectively refining the appearance of wrinkles. Embrace healthy moisture while restoring elasticity and firmness to skin.
Complete Benefits - Expect the most from your daily moisturizer. Comprehensive anti-aging benefits with regular application will give you a radiant and positively refreshed complexion. Stimulate collagen production. Support the healing and repair response in skin. Increase skin thickness. Refines appearance of wrinkles and fine lines. Even skin texture and tone. Complete benefits from your moisturizer.
Lightweight & Effective - A beautifully delicate matte lotion, you'll find Peptide Complex Moisturizer to be just the right amount of nourishment for your skin. Perfect and suitable for dry and even sensitive skin types. Non-irritating, fragrance free and with a composition of more than 69% organic ingredients, your skin will soak up all the benefits of this exceptional natural moisturizer.
Superior Formulation - Bringing you a unique blend of hand-picked ingredients. Vegan Hyaluronic Acid with non-comedogenic Jojoba Oil provide perfect moisture with Panthenol (Vitamin B5) + Green Tea working to restore skin cell integrity while fighting off free radical damage and oxidative stress. Finally, Peptides support optimal skin health through collagen production.
Where you can find it:
Amazon! Click HERE to check it out.
My initial thoughts:
Looking at the ingredient list and then at the price, this moisturizer is a steal! It goes on silky and lightweight and absorbs quickly without making my face look/feel heavy or greasy. The Amino Acid blend is PRETTY far up on the ingredients list, which means this little baby really packs a punch. Just about everything is organic or kosher and its PARABEN FREE which I don't think they even mention in the description. Even the hyaluronic acid in this product is botanically based, not synthetic. The one thing I don't like about vacuum pumps is you never know when you are going to run out, however, they are definitely the most sanitary type of bottle to have. I did receive this product at a discount in exchange for review on Amazon but I can honestly say it has exceeded my expectations and is MUCH better quality than most things I see in department stores. I'm a licensed esthetician, and now am truly wondering if I should keep this for my self, or use on clients in my studio, and I have access to professional grade skincare as well.. I am looking forward to checking out other Foxbrim products.
Ashlie Lauren 313.389.6469
GlamourProductions Studios
Ashlie@ALaurenArtistry.com
IG: @ALaurenArtistry